MIUI 12 Features: Top 8 New Features You Should Know!
Xiaomi has recently announced its latest MIUI update- the MIUI 12. And, this MIUI brings some great features and changes that we have been waiting for a long time.
As of Now, MIUI 12 is in closed beta testing, and we have got our hands-on MIUI 12 on the Redmi K30 Pro.
So, let's take an early look at the New MIUI 12 features that you should know.
Let's Get Going…
Top 8 New MIUI 12 Features
New UI Updates
The Biggest highlight of the MIUI 12 is the Super Wallpapers. The MIUI brings wallpapers inspired from Mars and Earth and it looks really great.
These Super wallpapers look cool while unlocking or even when you're just scrolling between the pages.
Look Here: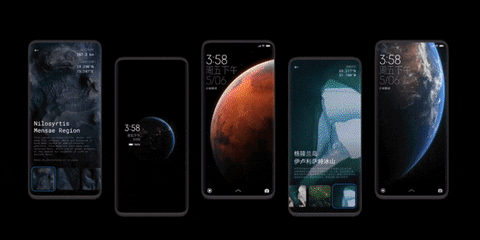 Coming to actual UI changes, MIUI 12 is built on the UI refinements that MIUI 11 brought. And, they are even better now. It is now more minimal looking and there's better data visualization all across.
Take a Look at the About page, Storage page, and MI Account page.
These all show certain data beautifully visualized, even the Settings page, the Battery graphed page looks more modern
Better Animations
MIUI 12 brings better and smoother animations all across the platform. Now, there's an animation for everything. Animations when you turn on the different toggles on the quick settings page. When the Wi-Fi is connected you get a subtle and nice animation.
Most importantly, the app opening and closing animations have been improved. These animations do remind us a little of iOS but its no problem.
Anyway, there are better animations all across the UI. Like Way of uninstalling apps, finishing a task in the Notes app, moving across things, opening up events in the calendar, checking the battery stats, or even the screen rotation animations which are really smooth.
Improved Gestures
One thing that we did not like about the MIUI gestures is that it did not support native android gestures of switching between apps. Well, that changes with the MIUI 12 Update.
MIUI fullscreen gestures have now refined animations and there's a lengthy bar at the bottom. Swipe up to go homes, Swipe up and hold to see recent app screen and flick left or right to switch between apps.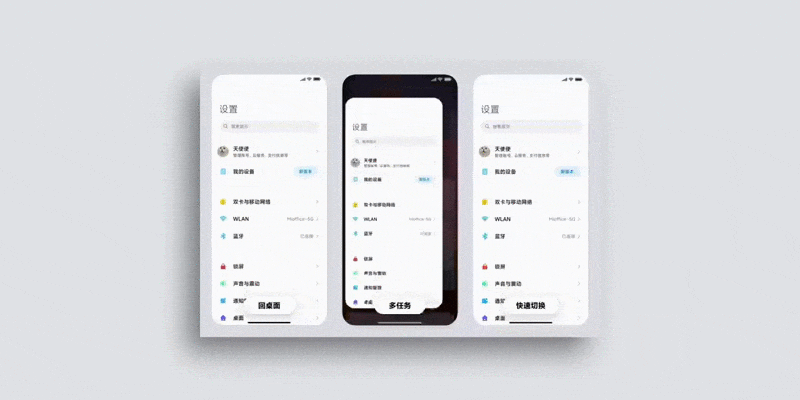 Global Free Window
Global Free Window is one of the features that kind of uses bigger smartphone screens. With MIUI 12 you can turn every app into a small freeform window.
There are different gestures for using Global Free Window. You can swipe up and hold an app then bring it yo the icon on the top to run that app in a small window. You can even snap and minimize a window aside. You can also open up a notification in a free-form window.
So, Yeah there a lot of gestures.
This even works when you're using the phone in landscape mode.
Dark Mode 2.0
MIUI Dark Mode looks great with all the colours splashed over the Black UI. And, MIUI is making dark mode even better.
First, Dark Mode 2.0 in MIUI 12 works with almost every single app out there. Secondly, it's improved- MIUI 12 is said to improve readability and reduce eye strain while using the dark mode.
You will notice automatic font-weight and contrast adjustments, texts will appear brighter and the wallpaper dimming feature will dynamically adjust the colour temperature of your wallpaper.
Privacy Features
MIUI 12 brings three new privacy features on board. There's Flare, Barbed wire, and Mask system.
So, Flare will keep track of the behaviour of all apps present in the phone and warn you with the list of apps that are out of line relating to privacy or permissions.
Barbed Wire improves on androids permissions manager and this will make sure that an app won't show the Always Allow button for the location or camera permission if the app does not specify what permission it requires.
Mask system is a feature similar to Realme UI and ColorOS 7 Personal Information Protection feature. The Mask system will basically mask your personal information or provide blank information in an app when it asks to share them.
So, these are really nice privacy features.
Also Read:
MI Health
The New MI Health app is officially live with the MIUI 12. With the MI Health app, all you need is your phone with you to track your steps, workouts, and more.
So, the MI Health app will send you sedentary reminders and you will be able to monitor your sleep. Yes, it works without a fitness tracker. All you need to do is place your phone on your pillow while sleeping.
Other Minor Changes
MIUI 12 also brings a whole lot of other changes like new cool Dynamic weather app which shows really cool animations based on the weather.
There's also an AI calling feature that is probably for China only. A new Video toolbox Feature that probably will be handy for some and several other optimizations.
Conclusion: MIUI 12 Features
Well, these were some new MIUI 12 features, and if you want to know if your Xiaomi device supports an MIUI 12 update take a look at our article.
Also, tell us which is your favourite new MIUI feature in the comments down below.